Books



Richtig Reiten - eine Herausforderung:
published by FNverlag

read reviews






Riding with Understanding and Feeling:
published by FNverlag

read reviews


Please note the following mistranslation:
Unfortunately, in the English translation of my book "Riding with Understanding and Feeling" the term "lateral bend" is incorrectly described as the "longitudinal bend". When I am talking about the horse bending around the inside leg of the rider, the correct term is "lateral bend". The "longitudinal bend" on the contrary describes the stretched topline of the horse in a forward and downward direction. This incorrect description may cause some confusion for the reader. Please accept my apologies and  I hope you will enjoy reading the book in spite of this mistake.
I would like to thank Mrs. Joan Adler from Canada who advised me of this mistranslation.


Die Reitabzeichen
published by Kosmos Verlag
Völlig neu und auf dem neuesten
Stand entsprechend der APO 2014



Vollendete Reitkunst
published by Müller-Rüschlikon Verlag

Richtlinien Bd. 1 + 2:
published by FNverlag




Deutsche Reitlehre Bd. 1 + 2:
published by FNverlag







Videos & DVD's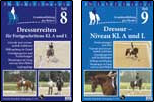 Blaue Reihe 8 + 9:
published by FNverlag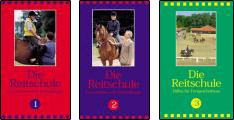 "Die Reitschule" Teil 1 bis 3:
published by TV Vogel/Pferdia
Books and videos/DVDs are available under:
www.fn-verlag.de
Book and Video-Tips

Books:
Bürger/Zitschmann: Der Reiter formt das Pferd
von Dietze, Susanne: Balance in der Bewegung
Heipertz-Hengst, Christine: Fit fürs Pferd
Klimke, Ingrid: Cavaletti
Knopfhardt, Alfred: Dressur von A - S
Langen, Barbara/Schulte Wien, Beatrix: Osteopathie für Pferde
Meyners, Eckard: Bewegungsgefühl des Reiters
Seunig, Waldemar: Von der Koppel bis zur Kapriole
Steinbrecht, Gustav: Gymnasium des Pferdes
Steinkraus, William: Betrachtungen über Reiten und Springen
Zettl, Walter: Dressur in Harmonie
Videos/DVD´s:
Videos der Blauen Reihe aus dem FNverlag 1 - 9
Michael Putz: Die Reitschule 1 - 3, Pferdia
Balance in der Bewegung, FNverlag
Faszination Pferd, FNverlag
Dressur Transparent 3 DVD´s, FNverlag
More information about specialised books and DVDs are available under www.pferdia.de
The Ethical Principles


Assumption of responsibility

Consideration of natural needs

Priority of health

Respecting each horse equally

The history of the horse belongs to the cultural possessions

Influence for personal development

Perfect harmony as highest aim

Paying attention on talents, motivation and capacity

Responsibility for the end of life